22 May 2022, 1:34 UTCXfinity - I can't believe it's not internet access!

When you feel the need to simulate a shared dialup connection,
there is always Xfinity to the rescue.
---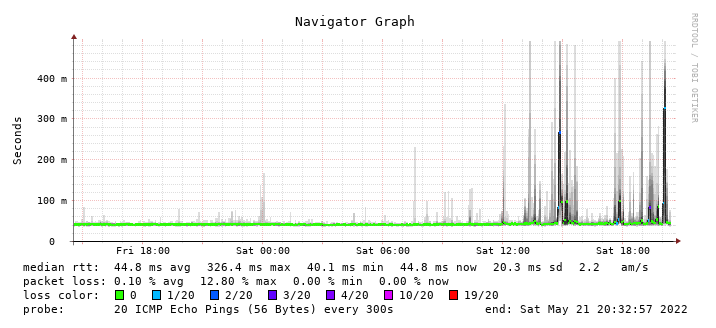 13 April 2022, 19:54 UTCDNS CNAME record conflicts with other types

If you have a CNAME for a subdomain, this will block the other records for that same subdomain.

 E.G.

 subdomain.domain.tld TXT blaaaaaaablaaaaaaaaaaa
 subdomain.domain.dlt CNAME some.domain.other



A query for the TXT record will only return the CNAME as it short circuits the lookup - just like at the case for a bare domain CNAME record.

Reference:  https://www.rfc-editor.org/rfc/rfc1034

If a CNAME RR is present at a node, no other data should be
present; this ensures that the data for a canonical name and its aliases
cannot be different.  This rule also insures that a cached CNAME can be
used without checking with an authoritative server for other RR types.

But as always, in the case of "should" in an RFC, you might find odd behavior based on your implementation, but it would probably
be better if the semantics of handing off the queries to the alias domain remain intact.
6 December 2021, 15:46 UTCDo you git it?

Spot for my dabbling in yet another version system (damn I am getting old)
---
Where is this crap checked in?

git remote -v

origin user@somehost:projdir/projname.git (fetch)
origin user@somehost:projdir/projname.git (push)

4 October 2021, 19:12 UTCgetaddrinfo(whois.registrarsafe.com): Temporary failure in name resolution

Wah-Wah Sound Effect (Trumpet) for facebook.com et all...
Might be time to set up a finger server and static hosts file.
30 August 2021, 16:04 UTCThe internet is a hostile place...

Try not to make it (the internet) a more hostile place by putting in arbitrary blocks on services.
Scale up, not become Russia or China.
11 May 2021, 14:54 UTCDist upgrade and still getting nagware?

Try this:

apt remove ubuntu-advantage-tools

21 April 2021, 19:29 UTCMoving old LAMP's around and hitting errors?

---
If you get Call to undefined function dba_open

install php5.6-dba
systemctl restart apache2.service

---
30 March 2021, 22:44 UTCMigration of Concrete5 stuff (and Laravel) to newer servers

Migrating an older C5 site to Mysql 8.0 and hitting this error?

mysqli error: [1064: You have an error in your SQL syntax; check the manual that corresponds to your
MySQL server version for the right syntax to use near 'Groups where gID = '1'' at line 1]
in EXECUTE("select * from Groups where gID = '1'")

Check that you applied the mysql updates as well.
If you don't see the error, check your debugging setting:

UPDATE Config SET cfValue = 1 WHERE cfKey = 'SITE_DEBUG_LEVEL';

If you can't connect to the database and it is MySQL 8.0
The codebase might not be using the default new plugin caching_sha2_password
but rather the mysql_native_password

Check for them with:
SELECT User, Plugin from mysql.user;

- gather up the usernames and passwords the code uses.

This might work:
ALTER USER 'c5dbuser'@'localhost' IDENTIFIED WITH mysql_native_password BY 'c5password';
flush privileges;

If that does not work re-create the user:
- First record the users privs to which db's!

DROP USER 'c5dbuser'@'localhost';
CREATE USER 'c5dbuser'@'localhost' IDENTIFIED WITH mysql_native_password BY 'c5password';
GRANT ALL PRIVILEGES ON c5database.* TO 'c5dbuser'@'localhost';
flush privileges;

You might want to ensure the plugin is available via the my.cnf with

- if you have this in before the users are created, it should just work...
default_authentication_plugin = mysql_native_password

---
Hitting mysql errors in your Laravel logs like this:

(after setting : APP_DEBUG=true in your .env):
SQLSTATE[42000]: Syntax error or access violation: 1231 Variable 'sql_mode' can't be set to the value of 'NO_AUTO_CREATE_USER' 

It seems later Mysql 8 removed the option, so remove it from your database.php config file
2 March 2021, 19:39 UTCPython easy convert ip_ntoa using the ipaddress module


# requires Py3.3 or better (or pip install on 2.6 and 2.7)
import ipaddress
addr = str(ipaddress.ip_address(996641751))
print(addr)

59.103.139.215

12 January 2021, 14:16 UTCDashboards.

Dashboards for complex systems are a good way for those who don't do the work to get in a panic about a known minor interdependent issue unnecessarily.
Simplicity is sometimes just ignorance. Ignorance can lead to anger. Lack of trust sewn by some feed ignorance and anger.

4 January 2021, 17:56 UTCDigitalOcean, snapshots and restores.
16 December 2020, 20:49 UTCShorten it up Google.
14 December 2020, 16:19 UTCGreat timing idiots Re: Solarigate / SUNBURST and firing Chris Krebs.
18 November 2020, 21:06 UTCNetwork Policy Server logging - Windows Server 2016 dyslexia
17 July 2020, 15:19 UTCRemember, one programs stderr is...
17 July 2020, 14:27 UTCIf you run a mail server...
2 July 2020, 16:53 UTCStupid vm stuff
5 May 2020, 17:31 UTCPoor form - logging stack traces without context
29 April 2020, 16:09 UTCPros are just amateurs who know how to gracefully recover from their mistakes.
16 March 2020, 22:13 UTCCovid-19 spread - remarkable!
5 February 2020, 5:44 UTCThink
22 January 2020, 18:42 UTCMicro$oft - have not been able to use the "$" for a bit there!
20 January 2020, 22:38 UTCCollection of codes for later
15 January 2020, 21:04 UTCNew title.
13 January 2020, 20:06 UTCsystemd stopping your reboots?
5 December 2019, 5:05 UTCNot a contradiction ???
6 November 2019, 5:31 UTCNext vector
5 September 2019, 19:40 UTCpip have you down?
8 August 2019, 3:58 UTCI can do anything you want...
29 July 2019, 19:02 UTCSo long and thanks for all the fish! Gmail: